Welcome To The Fitness Quadrant
FQ Home
Personal Trainer Watertown, SD
Weight Loss Program
Fitness Overview
Fitness Plan
Choose Your Path
Fitness Laws
FQ Beliefs
A Quadrant
C Quadrant
E Quadrant
R Quadrant
Success Stories
Buy FQ Books
Consultations
Book A PT Session
FQ Photo Gallery
Contact Info
Personal Trainer
Six Pack Abs
Links
Good Foods and Bad Foods
Colloidal Minerals
Exercise And Sweating
You Are What You Absorb
Athletes And Nutrition
Personal Trainer - Watertown, SD - weight loss expert - the best Personal Training
Personal Training - it's 2023 -
OPENINGS AVAILABLE SOON
Visit our Health and Nutrition website:
www.91essentialnutrients.com



Completely The Best Training At The Best Best Prices! (click here)
Fitness Training - Steve Costello ACE CPT
Specializing in a non-invasive "no wear and tear" positive stress exercise system that stresses the physiology of the body in a stimulating yet safe non-invasive way, and we assist the body in responding to that positive stress (of adapting and making its tissues stronger) by providing the body complete total nutrition with all the essential nutrients it needs, learning what to avoid and why, plus proper rest and sleep. Perfect for Senior Citizens.
Need to lose weight but not your health?
Would you like to have steady energy and not feel tired?
Would you like a thinner waist?
Are you looking for a complete step by step system designed by a Personal Trainer?
Do you want results that include safe effective non-invasive exercise?
Do you want a system that as you work it, it works for you?
Would you like to get healthier as you lose weight?


Yes, of course - we all want these things.....and here is how you can have them:
My 308 page book:


The Fitness Quadrant
Written and designed in 2010 by Personal Trainer Steve Costello, ACE CPT
(American Council on Exercise Certified Personal Trainer)


My Personal Training wisdom contained in this realistic system can help you achieve lasting quality results using the synergy of the four quadrants of fitness. "The Fitness Quadrant" - my fitness and weight loss system, gives you the plan to increase health as you boost metabolism and lose body fat as you move through each day using the synergy of fitness - all detailed in the "class textbook" that I designed and personally use in my actual Personal Training sessions. In my 308 page paperback (or E-Book): The Fitness Quadrant, my complete system that I teach and train my personal clients with, is yours to follow step by step as it completely explains the simple and balanced synergy of fitness.
Synergy is your key to fitness and safe lasting weight loss by finding your balance between

eating, rest & exercise.
Understanding how to balance and implement synergy is what can make all the difference in your success!
Balanced synergy is contained in the four parts of the Fitness Quadrant:
Cardio

,

Anaerobics

,

Eating

and

Recovery

.

C

A

R

E

.
Get the results you want by using balanced synergy explained in the state of the art manual for fitness and weight loss - The Fitness Quadrant provides you the ultimate customized system for fitness success. Save yourself valuable time in learning the synergy of the fitness and weight loss system quickly by "taking the author and trainer home with you" as you follow the program and concepts in the book.
Don't

waste

time doing too much of unnecessary "wrong" exercises and activities,




and learn how to identify and avoid them. Learn to

invest

your time wisely




by doing the correct amount of the "right" exercises and activities!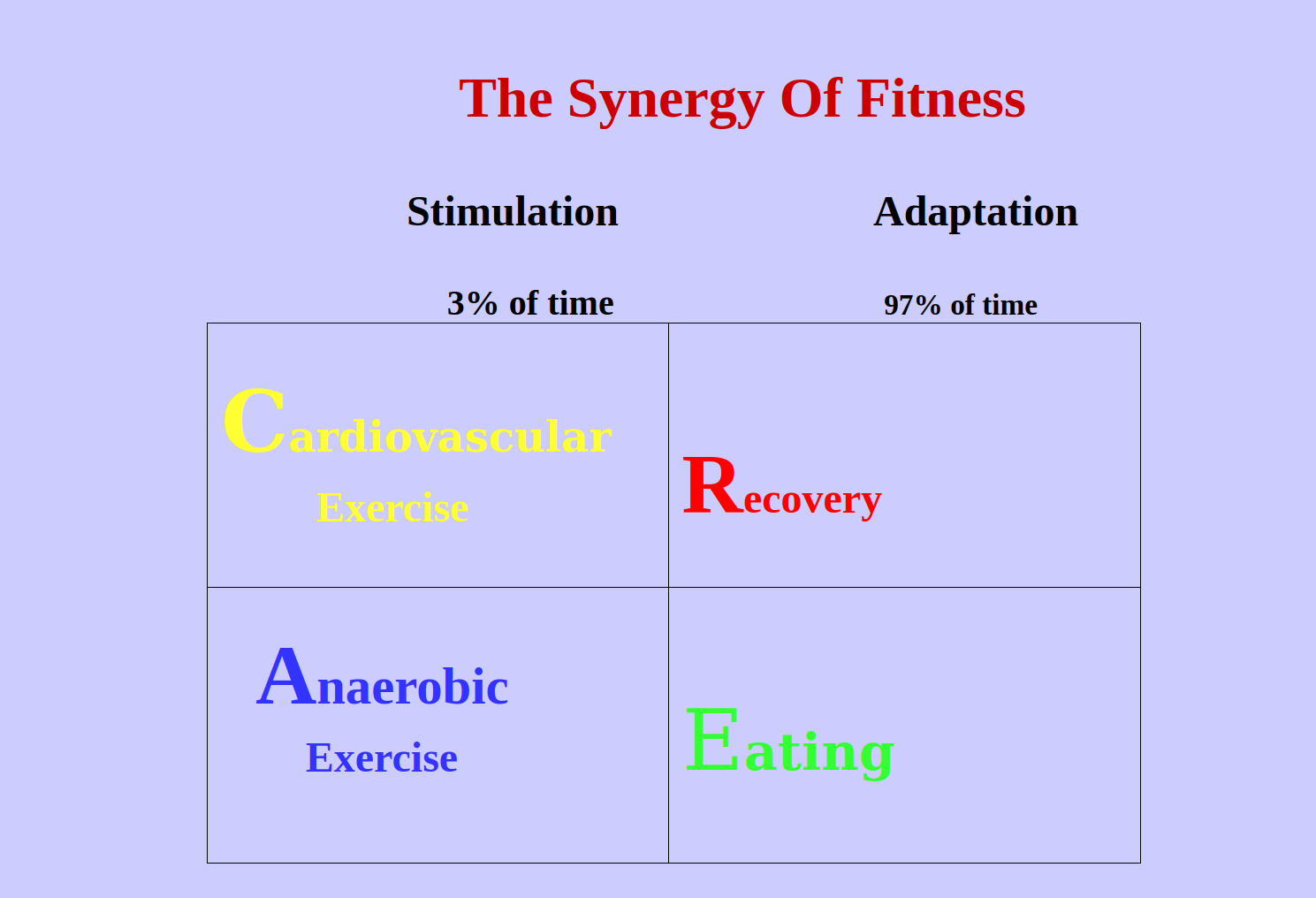 The Fitness Quadrant program explains the simple and balanced synergy for fitness that is contained in the four parts of the quadrant – Cardio, Anaerobics, Eating and Recovery. C A R E. Using the unique system of "Choose Your Path", you choose to follow either a very simple plan, or a very detailed calculated plan. So, depending upon your personality, patience and fitness level, this system and book is for you! Many of us want to have healthy and lasting weight loss - That means ONLY losing the body fat and adding lean muscle because muscle is where the fat is burned (and for many of you getting BACK the lean muscle you had when you were young and in good shape).
Personal Trainer Steven Costello ACE CPT and author of the book "The Fitness Quadrant" reveals it all in this new book, available now in paperback and e-book , 8 1/2 by 11, 308 pages
Order Yours Today!
Available In 8 1/2" by 11" Paperback for $29.95 plus postage

and

PDF e-book download for $11.95
(click on the picture link below, or here: Buy FQ Books)


- - - - - - - - - - - - - - - - - - - - - - - - - - - - - - - - - - - - - - - - - - - - - - - - - - - - - - - - -



Looking for the best

Personal Training

in the Watertown, SD area?
* NO OPENINGS CURRENTLY AVAILABLE

Completely The Best Training At The Best Lowest Prices!
By being a Fitness Quadrant client you get the full benefit of Coaching and Consulting for your complete program of all the four quadrants - not just during your Personal Training exersise session! To be successful we must be eating, resting and exercising correctly, and since about 97% of our time is spent in the

R

and

E

Quadrants, you will get the support you need as your entire plan is reviewed and modified during your session and also in between sessions (during these important times spent in your

C

,

R

and

E

Quadrants) by calling or emailing and getting your questions answered.
Personal Training sessions may be currently available with Steve personally. Openings that may be available have specific time frames, so write or call for scheduling and possible availability, a waiting list may be in effect if there are no current openings, so reserve your spot on the waiting list.



To Learn More About What's Included In A Session - Click Here: Personal Training Sessions


- - - - - - - - - - - - - - - - - - - - - - - - - - - - - - - - - - - - - - - - - - - - - - - - - - - - - - - - - - - - - - -



Alert - Are You Sweating Out All Your Nutrients?
Most of us have, and when exercising they sweat out much faster than the couch potato - if we sweat out all our selenium then we are at risk of a cardiomyopathy heart attack, if we sweat out all of our copper then we are at risk of an aneurism, etc. So we need to put these back into our bodies ASAP

Go to www.91essentialnutrients.com to learn about restoring nutrients lost from Exercise and Sweating

Call me or email me to learn more about the harmful effects of Sweating and Exercise




Need More R & R?
Copyright 2023, Steven Costello

Call now:

(732) 948-8112

or email: livelongernow@protonmail.com
None of the information on this website is intended to diagnose, treat, cure or prevent any disease or to take the place of your physician. All that is recomended on this site is to support and promote your health. The statements regarding these products have not been evaluated by the Food and Drug Administration. These products are not intended to diagnose, treat, cure or prevent any disease. The information on this Web site or in emails is designed for educational purposes only. It is not intended to be a substitute for informed medical advice or care. You should not use this information to diagnose or treat any health problems or illnesses without consulting your pediatrician or family doctor.
7947